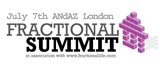 Fractional Life today confirmed the full speaker and panel guests for the forthcoming fractional ownership property conference taking place on Monday 7th July 2008 at the prestigious Andaz Hotel, City of London.
"Fractional Summit" 2008's theme, 'Fractional ownership – a lifestyle and investment choice of the future?' is set to look at the growth in the worldwide fractional property industry to date and the future of the UK and European marketplace and its impact on overseas prop erty.
The conference attracts delegates at the forefront of the fractional ownership property industry, and those looking to enter the burgeoning marketplace and with just two weeks to go has already confirmed a worldwide audience from the UK, France, Spain, Italy, Portugal, Dubai, Jordan, Turkey, Cyprus, Australia, South Africa and USA.
Sponsored by Registry Collection http://www.theregistrycollection.com , the Group RCI luxury fractional network, Fractional Life http://www.fractionallife.com , and Citadel Trustees Limited http://www.citadeltrustees.com ,
Limited delegate places are still available and a full speaker programme and booking information is online at http://www.fractionalsummit.com
Piers Brown, Founder of Fractional Life said "we're delighted the Summit has attracted a top class speaker line up and it's great we have so many confirmed delegates already. The day promises to be really informative and I'd like to thank our sponsors and media partners for their support so far"
Who Should Attend? Real Estate Developers, Exchange Companies, Fractional and Vacation Ownership Sales / Marketing Managers, Fractional Consultants, Fractional Entrepreneurs, Hospitality Management, Financial Instituitions, Legal Professionals, Investment Representatives, Suppliers of Value Added Programs and Incentives, Hospitality Industry Suppliers
Industry Sectors: Fractional ownership, Residence Clubs, Condo Hotels, Buy-To-Let Hotel Room Concept, Multi Destination Club Systems

ENDS
Notes To Editors
Fractional Life is the number one consumer lifestyle brand dedicated to growing the fractional ownership marketplace.
The company has 3 divisions: interactive, fractional conferences and exhibitions, and publishing.
Group RCI , part of the Wyndham Worldwide family of companies, (NYSE: WYN) is the global leader in non-hotel leisure accommodations with exclusive access for specified periods to more than 67,000 vacation properties in nearly 100 countries. Organisationally, Group RCI is comprised of vacation exchange, including RCI®, the worldwide leader in timeshare and vacation exchange and provider of travel services to businesses and consumers and The Registry Collection, the world's largest luxury exchange program; vacation rentals, including Endless Vacation RentalsSM , Landal Greenparks®, Novasol®, and more than 30 other vacation rental brands, through which vacationers can rent a wide variety of property types, from city apartments to country cottages to unique villas; and NorthCourse®, Leisure Real Estate Solutions, an international leader in providing a full spectrum of advisory, research, asset management and turnkey solutions and services. Collectively, the company delivers vacation experiences to leisure travelers around the world and provides products and services to business customers that support the growth of the leisure real estate industry. Wyndham Worldwide Corporation is one of the world's largest hospitality companies with leading brands in lodging franchising, vacation ownership, vacation rentals and vacation exchange. For additional information visit http://www.grouprci.com or the media centre of http://www.wyndhamworldwide.com
Citadel Trustees provides specialised trustee services in a variety of areas such as stakeholder activities, conveyancing services, shared ownership, private residence clubs and probate administration.
For more information please visit:
http://www.fractionalsummit.com
http://www.fractionallife.com
http://www.theregistrycollection.com
http://www.citadeltrustees.com
Issued 22nd June 2008
Press release issued by Douglas Brown, Douglas Brown Associates, Tel: +44 (0)121 308 4092.