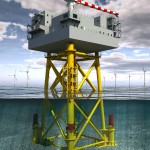 According to TUJobs, Vattenfall is currently developing the world's largest offshore wind farm accommodation platform.
The platform, which will be the main quarters of the offshore wind farm Dantysk, will be elevated 20 meters above the sea floor, 70 kilometers west of the island Sylt, on the boarder of Germany and Denmark.
The platform will be able to hold up to 50 people each night, and they will have access to a reading room, sickbay, pharmacy, and different leisure activities.
Managers will also have their own offices equipped with necessary communication technology, like radar, satellite receivers and fibre optic cables.
TUJobs note that this will be the second accommodation platform ever built that is dedicated to a offshore wind farm. The first was Dong Energy that built the very first accommodation platform in 2008, in connection to the Danish offshore wind farm Horns Rev II (369 MW).
"Even if this won't be the very first accommodation platform, this is definitely a new concept for running maintenance work on offshore wind farms, that stem from the oil and gas industry," says Vattenfall spokesperson Lutz Wiese.
The Vattenfall accommodation platform was planned to be complete in the fall of 2014, but now Vattenfall states that they expect the platform ready summer 2015.
"Anyone that has experienced the rough weather conditions of the North Sea can understand how important good work and living conditions are for maintenance staff. On these distances it is far too time demanding to have vehicles arrive every day, and the risk of workers getting seasickness and be unable to work, is too high," said Vattenfall project manager Holger Grubel in relation to the release of the plans in 2012.
For more information on the project, and other energy related topics, visit www.tujobs.com.