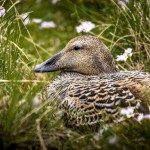 In September 2014, Royal Eiderdown launched its new luxury duvet brand, the Skarð Eiderdown Duvet, delivering the most luxurious eiderdown duvets in the world. Skarð is a famous farm in West Iceland with a family history since 1105AD.. Royal Eiderdown builds on this heritage and knowledge of eiderdown duvet production that has been passed down from generation to generation.
Mr Hilmar Kristinsson, a 28th generation Skarð inhabitant and founding partner of Royal Eiderdown, carries on with the tradition of hand-picking eiderdown off the coast of the Skarð farm on a cluster of 63 islands in Breidafjordur, West Iceland. "A special relationship exists between the wild eider duck and my family. We treat the bird with respect as the eiderdown gives us a way of living," says Hilmar.
Kristinsson carries on a tradition that has been passed down over many generations and the first documented exchange of Skarð eiderdown duvets was recorded in 1455 AD when Ólöf the Rich and her husband Bjorn of Iceland sailed with gifts (among them Skarð eiderdown duvets) to the Danish King in Denmark. "Our products have a history of being made for kings and queens," says Díana Björk Eyþórsdóttir, a founding partner.
"The brand represents the ultimate comfort and exclusivity in duvets," says Díana. "The eiderdown outperforms any other filling materials with its superior insulation properties and it's rarer than a Rolls Royce as the yearly production can only support around 4.000 duvets using only eiderdown and no other filling material," says Díana. The Skarð eiderdown duvet is light as a cloud, soft to the touch and with the Seal of Quality from the Icelandic Government inspector gives you a product that is unmatched. From the nest in West Iceland to the comfort of your own bed is a production chain that we fully control. There is no other duvet manufacturer that can give its customers such a promise and also provide a fully eco-sustainable product.
For more information, please visit www.royaleiderdown.is