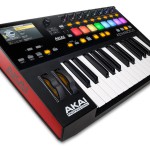 London – DJkit is proud to announce the arrival of Akai's long-awaited Advance 25, Advance 49, and Advance 61 – premium, professional products promising unprecedented virtual instrument control. Having set out to smash the barrier between hardware and software to create a uniquely seamless and flawless digital DJ experience, Akai has produced three spectacular products of world-class quality.
Britain's very first batch is winging its way to DJkit right now, with the Akai Advance 25, Akai Advance 49 and Akai Advance 61 being priced at £299.00, £389.00 and £469.00 respectively.
Unprecedented Control
"This is the way to do it! Akai Professional's Advance Keyboards is like nothing else you've ever played. All three models give you unprecedented playability and unrestricted manipulation of any virtual instrument with our exclusive interactive, full-color display, complemented by performance-friendly hardware controls. Available in 25-, 49-, and 61-key sizes, they Advance Keyboards deftly fuse the power of software instruments with the live playability of a keyboard workstation, so you can create like never before. The dividing line between software and hardware instruments is finally gone!" – Akai Professional
Akai's on-going efforts in the pro DJ arena have yielded yet another example of a piece of cutting-edge hardware that's as easy to use as it is sophisticated and rewarding. Each of the three 25, 49 and 61-key variants the same rich list of features, which includes:
Keyboards for advanced virtual instrument performance
Integrated 4.3-inch high-resolution full-colour screen with dedicated interface buttons
Screen provides 1:1, real-time feedback of plugin parameters
Includes Virtual Instrument Player software for unprecedented virtual instrument preset management, control mapping and multi patch creation
Premium, semi-weighted velocity-sensitive keybed aftertouch
8 large, endless and continuously variable control knobs
8 velocity- and pressure-sensitive MPC pads with RGB illumination
Dedicated pad bank, transport control, octave, and performance buttons
Note repeat, time-division, pattern arpeggiator, and tap-tempo buttons
Rubberized Pitch and Modulation wheels
Expression pedal and footswitch inputs
USB and 5-pin MIDI Input/Output for use with any MIDI capable software or hardware
The Total Package
"We Give You Everything You Need. Included with each Advance Keyboard is the Virtual Instrument Player (VIP) application. VIP gives you immediate access to any virtual instrument in your collection, with or without a DAW—a powerful way to play virtual instruments live or integrate them into a recording session." – Akai Professional
One of the world's leading names in professional-quality DJ equipment, Akai has produced a trio of Advance Keyboards with unique potential to maximize creativity and performance, while reducing unnecessary complications. The Akai Advance 25, Advance 49 and Advance 61 can be preordered now at DJkit for a price of £299.00, £389.00 and £469.00 respectively, or from less than £10 on finance.
About DJkit
DJkit is the UK's leading DJ retailer, offering an unrivalled range of over 25,000 products and packages for professional musicians and amateurs alike. The team prides itself at being right at the forefront of the industry, stocking only the most cutting-edge technology, offering the highest-level of service and hosting regular events in conjunction with industry elite.
Contact Information
DJKit, Unit B1 Shannon House, Hambridge Road, Newbury, Berkshire, RG14 5SS
Tel: 01635 780002
Email: sales@djkit.com