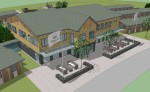 Stracta Hotel sør på Island nevnes som et av årets nye hoteller i den britiske avisen The Independent. Den populære avisen publiserte nylig en artikkel om de mest omtalte og sjarmerende hotellene for året 2014.
I følge reiseartikkelen er Stractahotellet et sted for avslapning, med muligheter for utforskning av områdets berømte vulkanske landskap.
Stracta Hotel i Hella, på Islands sydside, åpner i slutten av mai 2014 og ligger i landets enestående vulkanlandskap. Hotellet ligger innenfor en rekke av Island velkjente naturbegivenheter som Hekla, Eyjafjallajokull, Thorsmork, Gullfoss, Geysir, Thingvellir og Jokulsarlon.
Ni Stractahoteller vil i de kommende årene følge åpningen av hotellet i Hella. Hvert hotell vil plasseres slik at Islands varierte og enestående naturattraksjoner og landskap kan nytes.
For mer informasjon om Stracta Hotel på Island, besøk http://stractahotels.is
Klikk her for å lese The Independents hotelltips for året 2014.