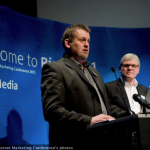 Early bird tickets for the 2014 Reykjavik Internet Marketing Conference (RIMC) will be ending at midnight on 15th February; organisers recommend purchasing soon as tickets are selling out fast.
Early bird tickets for RIMC 2014 are currently on sale at a limited discount price; the first 50 tickets will cost 34,900ISK (roughly €220).
The 2014 conference is a packet one-day event with great speakers and fantastic content focusing on Social Media, Search and other aspects of Internet Marketing.
This year's event will be focusing on 'Big Brands Online' and has a great line-up of speakers. Confirmed presentations will provided by Koen Spiers, KLM Royal Dutch Airlines, Social Commerce Manager; Richard Holley, Geox, Digital Communication Manager, and Kristian Kristiansen, SMFB, Account Director; Paul Daniel Tholen, Heineken, Head of Social Media; Chris Schaumann, Nokia, VP of Digital Marketing & CRM; Ajit Sivadasen, Global Head of Lenovo; Jan Grobech, CEO Google Norway; and Bas Van Den Bel, Founder of State of Digital; amongst others.
In addition, Reykjavik Internet Marketing Conference has announced that it will be hosting the 2014 European Search Awards. The European Search Awards celebrates the very best in search, PPC and digital marketing from across the continent.
To find out more about RIMC 2014, visit www.rimc.is/en; also, to download the first edition of the conference program, click here.
Be sure to keep track of RIMC via Twitter and Facebook; don't forget to check out the conference with the hashtag #RIMC14.