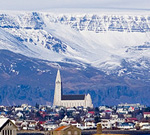 Iceland's capital city Reykjavik has been selected as part of CNN's winter vacation ideas list. The article, titled 10 best cities for a winter vacation, mentions that although Reykjavik is one of Europe's coldest spots, it has plenty of natural hot springs to keep you warm.
During the winter months, there are numerous activities unique to the season, including ice skating on the city's iconic landmark Tjornin, as its water freezes over making the lake the perfect outdoor ice rink.
One incredible experience during winter is checking out the city's many outdoor geothermal swimming pools. Each swimming pool has its own character and everyone has their favourite.
Car rental company in Iceland RED Car Rental offers a wide selection of brand new 2013 model cars suitable for travelling around Reykjavik, and further a field in Iceland's countryside.
These cars range from luxury BMW X1, BMW X5, and Land Rover Discovery 4 models to VM Golf, Renault Grand Scenic, Mercedes Benz Vito, and Toyota Yaris.
RED's customers can pick up their vehicles from either Keflavik International Airport or the BSI bus terminal in Reykjavik. If the latter is preferred, RED will provide its customers with a free return ticket on the Flybus airport shuttle to and from the airport.
RED Car Rental is part of Iceland's largest travel network Kynnisferdir, the mother company behind leading Iceland tour provider Reykjavik Excursions, and the Flybus airport shuttle.
For information regarding car rental in Iceland, visit https://www.redcar.is/.