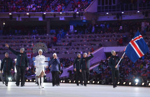 Iceland-based acquiring and issuing services provider Valitor has stated that it is proud to be sponsoring the Icelandic national team at the Sochi 2014 Winter Olympics.
The 2014 Icelandic team consists of five athletes in two sports, as well as eleven officials. For the first time since 1994, Iceland will be competing in cross-country skiing – 2014 marks sixty-six years of the country's participation in the games.
The 2014 team consists of Brynjar Jokull Gudmundsson, Men's Slalom and Men's Giant Slalom; Einar Kristgeirsson, Men's Slalom and Men's Giant Slalom; María Gudmundsdottir, Women's Slalom and Women's Giant Slalom; Helga Maria Vilhjalmsdottir, Women's Slalom, Women's Giant Slalom and Women's Super-G; and Saevar Birgisson, Men's 15 kilometre Cross-Country.
Valitor is a leading online and e-commerce payment solutions provider. It operates internationally, offering services to partners, merchants, banks, and cardholders around the world.
Since 2003, Valitor has been specialising in international payment acquiring services, where it was amongst one of the first companies to achieve a European cross border license.
For more information concerning Valitor, visit www.valitor.com