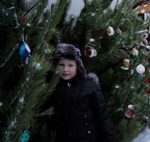 Iceland's third largest town, Hafnarfjordur, built in a lava field just outside of Reykjavik, has been enjoying some holiday festivities recently at its Christmas Village located in the heart of the picturesque town.
Hafnarfjordur's Christmas Village consists of numerous wooden cabins selling gifts, decorations and delicious festive treats. There is also a full schedule of live entertainment and musical performances, as well as the opportunity to meet The Yule Lads – Iceland's thirteen mischievous Santas.
The town's shops, restaurants and cafes have also joined in the Christmas spirit, decorating shop-fronts and offering festive treats. Furthermore, Hafnarfjordur's streets, houses and the Port of Hafnarfjordur are all decorated with millions of multicoloured Christmas lights, illuminating the town and giving it an extra special festive feel.
In addition, Hafnarfjordur also offers accommodates variety of activities such as horse-riding, guided tours, Viking-Age banqueting, a number of museums, and also the geothermal area of Krisuvik.
The Christmas Village is open on Saturdays and Sundays from 13:00-18:00 up until Christmas day. On the 23rd, the Christmas Village is open from 18:00 – 22:00 with a live Christmas concert beginning at 20:00.
For further information regarding Hafnarfjordur, visit www.portofhafnarfjordur.is.