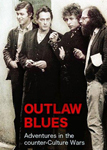 Outlaw Blues, a new American counter-culture eBook, has recently been released for the iPad, iPod and iPhone. The book, written by Jonathan Taplin, is one of the first enhanced eBooks with more than 100 video clips embedded throughout the story of the American counter-culture.
Outlaw Blues is a searing tale of the rock and roll and film revolutions of the 1960s and 1970s told by an insider who worked with Bob Dylan and The Band, George Harrison and Martin Scorsese to change the cultural landscape of America.
Though much of the book is centered on a group of musicians and filmmakers that author Jonathan Taplin worked with from 1965-1995, it is also the story of the roots of that era—the rebel artists of America's past—H.D. Thoreau, Mark Twain, Louis Armstrong, Orson Welles, Billie Holiday, Allen Ginsberg—the "mad ones" who made us who we are as a culture.
What is unique about the book is that it integrates text, video and music in a unique new format for electronic books.
"Outlaw Blues, Jonathan Taplin's absorbing new book…cleverly traces the modern history of American popular culture. What makes it stand out from the similar cultural memoirs is that Taplin packaged it specifically for the I Pad with…105 embedded videos," explain Jon Friedman, Wall Street Journal.
"Outlaw Blues ends up being the hidden history of America from the mid-19th into the early 21st century, one full of lessons for those who are trying to make sense of the media changes that are helping to define our present moment," explained Henry Jenkins, author of "Convergence Culture".
Outlaw Blues is currently available to purchase in eBook format for the iPad, via iTunes.