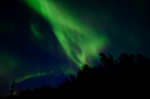 Leading Iceland tour provider Reykjavik Excursions is offering Northern Lights holidays and tours in Iceland for 2012 to coincide with the natural wonder's historical peak in activity at the beginning of the New Year.
The beginning of 2012 is set to hold some of the greatest displays of Northern Lights for past 50 years, as claimed by NASA scientists. Due to the pinnacle of the Solar Maximum – which last peaked in 2000, NASA predicts that the next one, in 2012, will be the greatest since 1958.
To coincide with this, Reykjavik Excursions is offering its Northern Lights tour in Iceland to achieve that one-of-a-kind holiday experience.
During the Northern Lights tour, guides take sky-gazers to locations with the best viewing possibilities, dependent on weather. Here, lucky viewers will get the chance to experience the dancing lights of the Aurora Borealis.
Reykjavik Excursions is a fully licensed tour operator and travel agent and is the leading organiser of day tours in Iceland. Reykjavik Excursions operates one of the biggest bus fleets in Iceland, making the company one of the largest organisers of tours both for individuals and groups in Iceland.
To find out more about Northern Lights holidays and tours in Iceland for 2012, visit www.re.is.