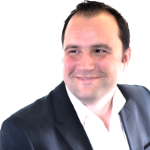 Gilroy, the home of B2B creative marketing communications, today announced that Matt Neal will re-join the agency. The move will see Matt Neal reunited after eight years with Kevin Sleap, Gilroy's Senior Partner and owner to launch a new pure digital agency.
The new agency called Brightsparx will operate as a start-up digital marketing agency, specialising in the very latest pure digital services. Gilroy currently provides B2B marketing services for a number of leading global brands such as: Oracle, Vodafone, TCS, Alcatel-Lucent and Colt. The new agency will operate as a standalone company but will also provide Gilroy's clients with a range of innovative digital services, which include: web & microsite design; content seeding; online reputation management and app development.
Since leaving Gilroy in 2007, after four years at the agency, Matt held a senior marketing role at the Loewy Group, which has shareholdings in brands such as: Seymourpowell, Williams Murray Hamm, Epoch Design and Rainier PR. Matt also worked for Capgemini as a senior consultant, where he delivered a range of services which included: customer experience transformation and stakeholder relationship management. During his time at Capgemini, Matt worked with clients such as: the Department of Works and Pensions (DWP); Job Centre Plus; Care Quality Commission and Sainsbury's.
Discussing Matt's re-appointment and the launch of Brightsparx, Kevin Sleap, Senior Partner and owner of Gilroy said: "It's great to have someone of Matt's experience re-join the team. At Gilroy we have a 30 year history of providing our clients with the very latest B2B marketing communication services. The launch of Brightsparx, headed up by Matt will allow us to continue this trend. The agency will allow us to take advantage of the current market demand for digital services such as: search engine optimisation; social media; Pay Per Click (PPC) and link building."
"I am very pleased to be part of the Gilroy group again. Brightsparx will have an exclusive focus on the very latest digital services. By placing creativity and innovation at the heart of everything the agency does we will provide clients with cutting-edge pure digital services, while developing our own unique digital offerings," said Brightsparx's Managing Director, Matt Neal.
About Gilroy
Gilroy is the home of B2B creative marketing communications. Headquartered in Basingstoke with over 30 years experience, Gilroy specialises in: integrated marketing; strategy and positioning; branding; creative execution and project management. The agency has delivered campaigns across the globe for some of the world's leading brands including: Vodafone, TCS and Rolls-Royce. The company prides itself on delivering high-impact campaigns that provide clients with a return on their investment. For additional information please visit: http://www.gilroy.co.uk.
Contact details:
T: 08456 184 184
E: hello@gilroy.co.uk
W: www.gilroy.co.uk
Tw: @gilroyhq