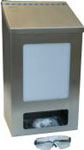 Teknomek, Europe's leading stainless steel furniture manufacturer, is offering special deals via its website throughout the month of September. This offer applies to various glasses dispensers, disposal bins and cupboards, all ideal for caterers, hospitals, pharmacies and veterinarians.
On offer is the stainless steel safety glasses dispenser, part number WC0385/SS. This unit is manufactured from 304-grade stainless steel and is designed for wall fixing. The glass dispenser has a hinged lid and a vision panel, ideal for monitoring stock levels. This item normally costs £194, but is now reduced to just £174 throughout September.
Also on offer is the medical sharps disposal bin, part number WB0070. This item is manufactured in 316-grade stainless steel for high chemical and corrosion resistance. The unit is designed to be either wall mounted via its integral bracket or floor standing. The bin comes complete with a lift handle for ease of transportation and a lockable lid for maximum safety. Throughout September, this item is reduced from £314 to £282.
Need some high integrity storage space but struggling with a limited budget? Well, Teknomek is offering a LDWC1000X300 light duty wall cupboard, made from 304-grade stainless steel. This unit has a fixed internal shelf and two solid hinged doors, and is measuring a generous 1000 (L) x 300 (D) x 500 (W). This unit has been reduced from £304 to £273.
Finally, Teknomek is offering a 304 grade polished stainless steel scoop, part number TSC/S155C. This item is fully welded and crevice free, the scoop has a capacity of 750ml. This stainless steel scoop is reduced from £80 to £72 throughout September.
All of the above stocks are limited and can be order via the Teknomek website, www.teknomek.co.uk. Alternatively, call 01603-788833 for more details.