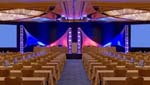 Telecom chief executives from Asia and the Middle East are meeting with private equity investors, investment bankers and legal advisers during upcoming finance and investment conference to debate TMT mergers and acquisitions.
Leading speakers announced so far include Sandip Das, CEO, Maxis Communications; Ghassan Hasbani, CEO, STC International; Jamal Jarwan, Group Chief International Investments Officer, Etisalat Group; Loo Cheng Chuan, Director (NBN), SingTel; Shashank Singh, Partner, Apax Partners; Gautam Saxena, Head of Asia Telecom and Media, Bank of America Merrill Lynch; Arjun Soota, Managing Director, Telecoms Group, Standard Chartered; and Stephen Ho, Head of TMT Asia, DBS Group.
The TMT Finance and Investment Asia conference, to be held at the Grand Hyatt Hotel in Singapore on November 3-4, will bring together senior executives from telecom operators with investment bankers, investors and professional advisers to debate international strategy, financing and partnership opportunities as well as Merges and Acquisitions in Asia. The global conference series is internationally renowned as the premier networking event for financing telecoms in emerging markets.
"M&A activity in Asian telecoms will accelerate this year as regional telcos look to acquire market share and increase profitability in the world's most exciting growth markets," said Dominic Lowndes, Managing Director of BroadGroup TMT Ventures, the conference organisers. "Consolidation in Indonesia, India, Thailand and Vietnam is a likely scenario given the number of operators fighting for market share. Infrastructure asset sales and bolt on acquisitions will also provide telcos with increased revenue and profitability opportunities".
Highlights of the event will include:
• The Telecom Leadership Round Table chaired by Booz & Company and featuring CEOs and CFOs from Maxis, Etisalat, STC International and several other leading operators to be announced shortly.
• The M&A Advisers Panel featuring leading international investment banking and legal advisers.
• Next Generation NBN Investment Opportunities – hosted by KPMG and including the leading players involved in the Singapore network.
• Mobile Broadband Asia – The Technology Investment Debate
• The Financing Panel – Accessing Equity and Debt Capital
• Cloud Computing and Mobile Payments Sessions
Following the success of last year's inaugural Asia event the organisers are seeing increased institutional interest from across Asia and outside the region this year. International and regional media will also be in attendance.
For more information on sponsorship, speaking opportunities and M&A in Asia, visit www.tmtfinance.com/asia, or alternatively, contact enquiries@tmtfinance.com