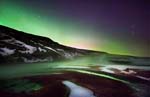 This winter, the Aurora Borealis, otherwise known as the Northern Lights, is to become a greater spectacle than ever due to a recent increase in solar activity. This increase has lead to the Northern Lights gracing the skies as far south as Denmark and Germany.
In Iceland, the beautiful experience of the Aurora Borealis can be viewed amongst some of the most spectacular landscape, making the island in Atlantic the perfect place to visit. Also, due to the countries location on the cusp of the Arctic Circle, sightings between September and March are extremely frequent. Luckily for UK travellers, this winter Icelandair is providing an affordable way to see this natural wonder with its Northern Lights City Break.
Icelandair's Northern Lights package deal includes flights from any Icelandair UK gateway; London, Manchester or Glasgow, the Northern Lights tour and three nights accommodation. Every Northern Lights tour is different as the tour guide takes the group to the area where they are most likely to see the lights that day based on weather conditions. The tour generally lasts three hours and makes for an exciting evening out exploring the rugged Icelandic wilderness
In addition to the tour, the Northern Lights City Break provides free days to enjoy Iceland's capital city Reykjavik, the Blue Lagoon geothermal spa or one of the many winter activities in the surrounding area.
To find out in more detail, visit www.icelandair.co.uk.