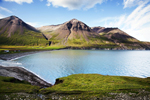 On Thursday June 3rd, approximately 320,000 residents of Iceland, government bodies and various travel companies, such as Icelandair, left online messages of support, encouraging visitors to experience Iceland for themselves.
The event titled 'Iceland Hour' drew more than 100,000 visitors, 1 million downloads of the promotional video and images, as well as 5 million Twitter messages. This positive exposure was picked up and encouraged by foreign media and celebrities alike, including artist Yoko Ono, actor Viggo Mortensen, writer Steven Fry and celebrity chef Jamie Oliver.
The online campaign, Inspired By Iceland, is intended to help push Iceland tourism in time for the summer months since the flight disruptions caused by the Eyjafjallajokull volcano. Visitor numbers to Iceland have dropped significantly, due to the misled image that travellers have of the current situation in Iceland. 'Iceland Hour' was intended to help make people aware that the safety, the infrastructure and the beauty of the country is still intact, as well as flights to Iceland resuming normal service.
Birkir Holm Gudnason , CEO of Icelandair commented, "We are extremely happy with the amount of positive exposure 'Iceland Hour' had within the foreign media, and of course not forgetting the tremendous effort amongst the Icelandic people. We look forward to the future of tourism in Iceland and for people to experience all that Iceland has to offer."
To learn more about the Inspired By Iceland campaign and to join in further discussions about life in Iceland simply go to www.inspiredbyiceland.com and leave your own personal message. Alternatively, you can also visit the Inspired by Iceland Facebook and Twitter pages. Furthermore, to book flights to Iceland visit www.icelandair.co.uk for more information.