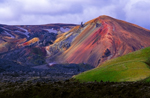 Now that the online tourism campaign Inspired By Iceland is well under way, and the Eyjafjallajokull volcano activity steadying, tour operators in Iceland are doing their best to offer special travel deals to meet the increased interest in the country.
The online travel agency Icelandtotal.com is now offering special deals on Reykjavik City Breaks to help cope with the demand. The Reykjavik City Breaks give travellers the option of selecting a preferred vacation theme with a range of day tours in relation to their choice; prices for a two night package including accommodation starting from €115 per person.
Whether you're looking for excitement, adventure or pure relaxation, Reykjavik has everything you'll ever need. With top-class restaurants and cuisine, exciting nightlife and amazing attractions such as the Geysir hot spring, Gullfoss waterfall and the Blue Lagoon, Reykjavik is the ideal destination for a short break.
Icelandtotal.com is one of Iceland's leading online travel agencies offering a range of holidays in Iceland, tours, accommodation and car rentals. The site also offers one of the most complete travel guides about Iceland, giving detailed information on all of the most popular attractions, towns and museums.
To find out more regarding Reykjavik City Breaks visit www.icelandtotal.com.