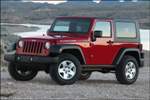 Leading car rental company, Iceland Car Rental, has just added the Jeep Wrangler 4×4 to its already impressive fleet of vehicles in time for the summer. The Icelandic car rental company has increased its services in order to accommodate the influx of travellers wishing to take self drive holidays across Iceland's beautiful landscape.
The company website is a one-stop-shop for cheap vehicle rental, with cars ranging from city drive saloons to four-wheel drive cars able to withstand the toughest terrain across the country. All the vehicles are all easy to drive and come fully equipped with a Garmin Navigation System, child seat, cushion and roof box on request.
Iceland Car Rental is renowned for its discount offers and low prices all year round. Customers can be treated to up to an impressive discount of 20 percent, depending on rental duration.
The car rental company also deliver directly to hotels and guesthouses in the greater Reykjavik area, as well as collection from Keflavik International Airport or the BSI coach station in downtown Reykjavik.
Further details on Iceland Car Rental's services and self drive holidays in Iceland can be found at www.icelandcarrental.is