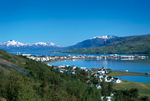 The nation of Iceland gathered yesterday for a world first online campaign to help the positive promotion of Iceland and its tourism.
At around 1400 GMT yesterday, the residents of Iceland, Trade Council of Iceland, Tourist Board of Iceland and various other travel companies, such as Icelandair, logged on for an hour in support of the new Inspired By Iceland online campaign. During the event, which was backed by the Icelandic Government, Icelanders sent out messages to friends across the world about what they love about their country, why people should visit, what is really happening in Iceland and how they can also be 'Inspired By Iceland'.
Inspired By Iceland is intended to help kick-start Iceland tourism in time for the summer months since the disruptions caused by the Eyjafjallajokull volcano. Visitor numbers to Iceland have dropped significantly, due to the misled image that travellers have of the current situation in Iceland. The event today was to help make people aware that the safety, the infrastructure and the beauty of the country is still intact.
Katrin Juliusdottir, Minister of Industry of Iceland, said, "We believe Iceland is a country that can inspire everyone who comes here. The stunning geography and wonderful scenery, the warmth and kindness of the people, the unique culture and accessibility of Iceland all go towards making our country a great place to visit – we want the world to know that."
Yoko Ono, a long time fan of Iceland also helped to urge people to back the Inspired By Iceland campaign via her Twitter and blog, as well as numerous other musicians and entertainers from Iceland and across the world.
For your own chance to be 'Inspired by Iceland' and to join in further discussions about Iceland, whether it is about the music, scenery, sport or even wildlife in Iceland simply go to www.inspiredbyiceland.com and leave your own message. Alternatively, you can also visit the Inspired by Iceland Facebook and Twitter pages. Furthermore, to book flights to Iceland visit www.icelandair.co.uk for more information.