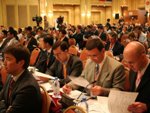 TMT Finance and Investment conference is set to host chief executives from rival international telecom tower operators in order to debate multibillion dollar acquisition strategies for African communications infrastructure in 2010. Eaton Telecom CEO Alan Harper, former head of strategy at Vodafone, Helios Towers Africa CEO Charles Green and American Tower Corporation's Director of Business Development, Stephen Harris, will discuss opportunities in a panel chaired by Ernst & Young which also features Macquarie.
The conference takes place in London on June 21st and will provide critical insight into emerging market dealflow and strategy for telecom and technology executives, investment bankers, investors, lawyers and advisers. The conference features exclusive presentations, topical debate and high end networking opportunities.
Managing Director of BroadGroup TMT Ventures and conference organiser, Dominic Lowndes commented, "Infrastructure opportunities in Africa will attract several billion dollars investment as rival towers operators race to buy portfolios from telcos seeking to reduce costs. Eaton, Helios and American Tower are the leading players and are competing aggressively for assets. Each has significant capital available, but there are also complex issues surrounding leaseback strategies which affect the telecom operator's sale preferences."
American Tower entered exclusive negotiations to buy Cell C's South African portfolio of towers last month while Helios succeeded in acquiring 750 towers from Millicom Ghana in January. Further sales are planned by Zain Africa, Millicom and MTN among others with deals being prepared across the African continent. Eaton Telecom, which was founded a year ago by Harper, along with former Orange CEO Sanjiv Ahuja and Celtel co-founder Terry Rhodes is planning to build new towers of its own and to buy existing telecom infrastructure from operators and to manage it on their behalf.
The conference speaker academy also includes Tata Communications, Vodafone, Goldman Sachs, ZTE, JPMorgan, Fidelity Wireless, BNP Paribas, Bintel, Denton Wilde Sapte, Nomura International, Herbert Smith, Emerging Africa Infrastructure Fund (EAIF), Investec, Anthem Corporate Finance, Nigerian Communications Commission (NCC), Barclays Capital, Citigroup, Onda Analytics and Balancing Act.
Other session highlights include The Telecom Executives Round Table; The M&A Advisers Panel; The Infrastructure Investment Panel and Raising Finance for African Telecoms. To view the full programme visit www.tmtfinance.com/africa/programme
For further information and enquiries visit www.tmtfinance.com/africa or email enquiries@tmtfinance.com.