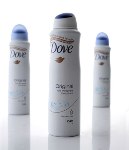 With over 70 percent of all choices made by comsumers at the shelf, the packaging design of FMCG products is more important than ever. Brand strategy and design can no longer be ignored as the market is continuing to change, proving package design to be a key element in communicating with the comsumer.
The leading design and innovation company Seymourpowell has already worked with numerous FMCG companies in brand development and packaging to increase brand awareness and communication with the consumer. Seymourpowell has worked with leading brands such as Dove and Lynx for Unilever, Durex for SSL International, Felix for Nestle Purina, Lil-Lets and Cow and Gate for Danone.
Seymourpowell has achieved great results in package design development by using extensive, in-depth research techniques, observing and analysing the user as they carry out activities in their own environment. This is in order to understand the functional and emotional needs of the users' relationship with products to inspire and reach the maximun potential in product design development.
Seymourpowell adopts a unique integrated approach to design and innovation, which combines experience and knowledge about people with markets and business. Seymourpowell shares its ability with the client to forecast and predict vital implications of human behaviour. This helps work out possible scenarios to give clients confidence and reassurance.
Seymourpowell was founded in 1984 by Richard Seymour and Dick Powell and is now one of the world's leading design and innovation companies. The company currently consists of 80 people, combining a design studio, research centre, materials library and prototyping workshop.
Specialisms include design innovation, transportation design, ethnographic user research, strategy and new product development (NPD), trends and forecasting, product design and development, 3D structural design and 2D graphic design.
For more information regarding Seymourpowell and its product development designs visit www.seymourpowell.com
In addition to this, you can view and download the Seymourpowell FMCG Work pamphlet by clicking on the link below: