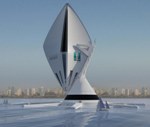 Leading design and innovation company, Seymourpowell, recently introduced Aircruise, an innovative development in transportation design. This giant, vertical airship is powered by natural energy and designed to carry travellers in style and luxury. Although only a conceptual proposal, the transportation design team at Seymourpowell developed detailed and achievable technical specification for the craft.
Seymourpowell's Aircruise concept is a new innovative design for a hotel in the sky, allowing for low passenger numbers with huge internal spaces. The Aircruise would offer room for living, dining and relaxing, as well as inspiring public spaces with glass viewing floors and look out points. The conceptual design proposes a bar/lounge zone, four duplex apartments, a penthouse and five smaller apartments.
"We got thinking about proposals based on time being the real luxury in the future, and how you might travel if you had a lot of time. After considering ideas including aircraft interiors and cruise ships, the team settled on developing a new type of airship," explained Nick Talbot, design director at Seymourpowell.
Aircruise presents an alternative take on the future, suggesting 'slow is the new fast', as the giant airship would be able to cruise up to speeds of 100-150km/h. This would allow it to fly from London to New York in 37 hours, or London to Shanghai in 90 hours. Talbot explained, "In a world where speed is an almost universal obsession, the idea of making a leisurely journey in comfort is a welcome contrast."
Seymourpowell's innovative design is 265m tall and would be able to reach heights of up to 12,000 feet by the use of hydrogen fuel cells, contained in four "flexible envelopes". The onboard services would be powered by solar panels as well as being silent and pollution free, which obviously has environmental benefits compared to other forms of transportation.
To learn more about the Aircruise, and other design and innovation projects by Seymourpowell can be found at www.seymourpowell.com
To view and download Seymourpowell's Transportation Design pamphlet click on the link below:

Seymourpowell Transportation Design
Contact:
Tim Duncan
PR Global, Seymourpowell
Email: tim.duncan@seymourpowell.com
Tel: +44 (0) 20 7386 2369