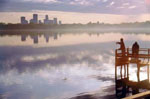 Iceland's leading airline, Icelandair, have recently publicised the reopening of transatlantic flights to Minneapolis St. Paul airport, according to their Iceland summer schedule.
These flights to the North American Mid-West are set to open between May 11th and October 9th this year, including daily flights with Icelandair from June 13th to August 22nd.
The reopening of flights to Minneapolis gives travellers from across the Atlantic the chance to see Iceland's glorious summer months. The island's location, on the cusp of the Arctic Circle, means that the sun's visibility is constant. This 24-hour daylight experience turns Iceland into a thriving centre of culture and entertainment, alongside incredible scenery; it's an experience not to be missed.
Continuous destinations to North America include New York-JFK, Seattle, Boston and seasonal services from Orlando-Sanford, Minneapolis-St.Paul, Toronto and Halifax. Icelandair offers frequent services to Iceland's only international gateway, Keflavik International Airport. Keflavik Airport boasts a welcoming atmosphere with an extensive duty free shopping area.
In addition, over another 20 destinations are available in Continental Europe, the UK and Scandinavia through connections to Keflavik International Airport with Icelandair.
To find out more concerning flights to Minneapolis and flights to Iceland via Keflavik International Airport visit www.icelandair.com