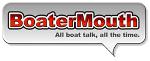 With over 140,000 new and used boat listings worldwide offered by more than 4,000 brokers, dealers and builders in 100 countries, YachtWorld.com and Boats.com are the single most powerful and effective global marketing solution for the boating industry. Both YachtWorld and Boats.com are visited by 3.5 million boating consumers every month who click through over 95 million page views.
Boats.com and YachtWorld.com, the world's leading online marine resources and both divisions of Dominion Enterprises, announced a long-term agreement that will connect their comprehensive, searchable boat listings. This extensive editorial content will contain 12 of the best marine journalists in the business.
The merging of BoaterMouth-branded sections, YachtWorld.com and Boats.com will enhance the online boater experience by offering in-depth information on boat-spec information, expert insights, connected and cross-referenced. The collaboration will also utilize the growing collection of social-networking sites, including Twitter, YouTube, LinkedIn and Facebook.
"This partnership recognizes and leads a paradigm shift," explained Ian Atkins, vice president and general manager of Boats.com and YachtWorld.com. "People who love the water are online now, looking for boats and high-quality editorial content to go with them."
Boats.com and YachtWorld.com will utilize their established online technology to pair this expanded editorial content with related new-boat and brokerage listings, offering the BoaterMouth team's writing to an average monthly audience of 3.5 million boating enthusiasts—more than the combined circulation of every U.S. marine magazine. Featured articles by BoaterMouth's marine journalists will cover a range of topics, from power and sailboats to fishing, mega yachts, marine electronics, marine engines, chartering, cruising, racing, and advice on maintenance and equipment.
"The team at Boats.com and YachtWorld.com shares our vision of connecting with boaters using rich editorial content in new online formats, and we'll be working with them to apply our industry expertise across digital platforms as they continue to evolve." Owner of BoaterMouth.com and longtime marine journalist Kim Kavin commented.
For more information about BoaterMouth and to access featured articles log on to www.boats.com/boat-content/boatermouth