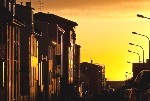 This year, treat your loved one to a breathtaking romantic getaway break in Iceland – a once in a lifetime Valentine's Day gift.
CenterHotels, a leading Reykjavik hotel chain, has introduced the Romantic Break in Reykjavik, as part of the run up to Valentine's Day. This cheap break in Iceland combines rest, relaxation and quality food, all surrounded by the beautiful landscape that Iceland has to offer.
For a few nights, stop at CenterHotel's wonderful Hotel Arnahvoll. During your stay you can relax in Arnahvoll's sauna and Turkish bath, or pamper you and your partner in the glorious spa and Jacuzzi. End your evening with a mouth-watering three-course meal at the top class Panorama Restaurant.
Whilst in Reykjavik, relish in its charming buildings, sweet neighbourhoods and peaceful scenery; all ideal for a romantic stroll. The vast number of bars and coffee houses are always great for a rest, in between checking out Reykjavik's wide range of shops and boutiques.
The romantic getaway break in Hotel Arnahvoll is just one of four incredible offers across all of CentreHotels' superb locations in Reykjavik.
For more information on breaks in Iceland, Valentine's Day gift ideas and hotels in Reykjavik visit www.centerhotels.com