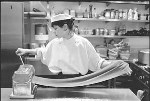 Now celebrating its ninth anniversary, this year's Reykjavik Food and Fun Festival should prove to be an exciting culinary experience for allinvolved. The annual culinary festival held in Reykjavik, Iceland is ideal for all food and travel enthusiasts, as the event combines culinary skills with outdoor adventure activities in the beautiful surroundings of Iceland. Reykjavik Food and Fun Festival is will be taking place in the last week of February, between the 24th and 28th.
Iceland's annual fine dining festival is based around two main components, both involving a number of talented chefs and culinary enthusiasts from all around the world. The first element of the festival is the collaboration of visiting chefs with restaurants in Reykjavik and the other element being a competition, which takes place on the last day of the festival.
Participating chefs are assigned to one of the downtown restaurants involved in the competition, where they prepare a special menu using only fresh Icelandic produce. The menu is presented at each restaurant for an entire week with the chefs themselves on site. One fine example of the participating restaurants is La Primavera, a contemporary Italian restaurant, which combines influences of North Italian cooking with local, fresh Icelandic produce.
The Italian restaurant is a laid back, smart establishment and a favourite with the locals. Owner and Chef Leifur Kolbeinsson spends a lot of his time in Italy studying and mastering the techniques and philosophy of the Italian cuisine. The Italian chef Fabrizio Marino of the Michelin Star Restaurant, Sous Chef of Joia, in Milan will be the collaborating with Leifur at La Primavera during the festival.
La Primavera's exclusive Italian wine list and Italian food menu provides a simple and surprisingly affordable fine dining experience. The Italian restaurant always uses the freshest ingredients, and not to mention the best possible fish – or as the world renowned chef and restaurant owner Jamie Oliver once described it, "The most amazing, freshest fish I've ever had in my life. It was all so perfectly cooked too. Beautiful."
Reykjavik Food and Fun Festival is a perfect occasion for chefs to network with other culinary experts from around the world and for food and travel enthusiasts to enjoy extraordinary food dishes and join in the fun.
For more information about Iceland's best Italian restaurant visit www.laprimavera.is and further details on La Primavera's participation in the Reykjavik Fun and Food Festival can be found here