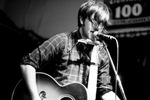 The Twilight Saga: New Moon earned an estimated $140.7 million during its first three days of release across the United States and Canada, making it the third-biggest opening weekend of all time at the North American box office.
Millions of young women swooned over the complex love triangle involving a high school girl, a vampire and a werewolf, a story based on a series of four novels by Stephenie Meyer.
The films have catapulted lead actors Rob Pattinson, Kristen Stewart and Taylor Lautner to International stardom.
Finding his own coven of adoring fans following the film franchise is songwriter Bobby Long whose song, Let Me Sign, was chosen for the soundtrack cult vampire movie.
Let Me Sign, was co-written by Bobby and friend Marcus Foster. After chatting to Rob Pattinson at an open mic night at the Spice of Life pub, in London, the three found a common love in music and have been good friends ever since. "We later played Let Me Sign to Rob and he liked it," said Bobby.
Bobby and Marcus had penned the song together one summer's night whilst sitting on a rooftop in Soho. At the time Bobby was studying BA Music Technology (Sound for Media) at London Metropolitan University, a course which he said was practical and gave him a good skill set to channel his creativity.
Let Me Sign was the last of a selection of songs Bobby and Marcus had written inspired by the country music sounds in the Coen brothers' film Oh Brother where art thou?
"When Rob moved to LA, he ended up recording the song in a studio there," Bobby explained casually, "We only heard it was definitely going to be used in the Twilight film a week before it was all finalised."
Speaking of the Leicester Square premier of the film, Bobby said: "There were thousands of screaming girls and walking down the carpet was nerve wracking but fun. I would like to do it again. We milked it!"
Following the success of the song, Bobby now has an army of loyal fans and a set of US and European tour dates. Bobby remains firm friends with Rob. In fact the Hollywood heart throb was recently spotted with Kristen Stewart, and their co-star Nikki Reed and her boyfriend Paris Latsis at a Bobby Long concert.
Want to follow in Bobby's footsteps down the red carpet? Nurture your talent by enrolling on one of a number of creative degrees starting this January at London Met. Start something Big this January. For more information visit www.londonmet.ac.uk