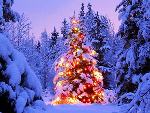 Dreaming of a white Christmas? Well, Iceland is this year's perfect unique location for a magical snowy winter.
Iceland's spectacular landscape of snow-covered mountains and fresh, crisp sea air is the ideal environment for someone seeking a different Christmas experience. Iceland, otherwise known as 'the land of fire and ice', also has the perfect Northern Lights location, just below the border of the Arctic Circle. These natural light shows of the Aurora Borealis are undoubtedly one of mother nature's most awe-inspiring spectacles.
Christmas celebrations in Iceland actually begin on December 12th when the thirteen troublesome Yulemen arrive, their mischievous hijinks range from playful tricks like stealing pots, slamming doors and harassing poor sheep. For thirteen days, children leave their boots on windowsills in the hope for presents from the Yulemen.
Traditionally, Icelanders celebrate Christmas on the 24th, where gifts are unwrapped and the all-important Christmas dinner is eaten, whereas Christmas Day and Boxing Day are normally spent at home unwinding.
How about some retail therapy? Well in downtown Reykjavik you'll find an array of shops ranging from Christmas gifts to haute couture fashion. Also, try some delicious jolabjor, Christmas beer, at one of the numerous bars downtown.
Afterwards, enjoy a soothing swim and indulge yourself in the geothermal spas at the famous Blue Lagoon. There you can experience the beneficial effects of the Blue Lagoons geothermal water, surrounded by a soft blanket of white snow.
For more information on the magic of Iceland visit www.visiticeland.com