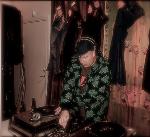 DJ Devastate has had many years to make a name for himself in Sweden; but his new debut album is threatening to bring the innovative producer/DJ/turntablist's unique sound to the attention of the whole world.
Hip Hop, jazz and funk fans beware! "Movement/Silence" by DJ Devastate is waiting to inspire and challenge you all! The album is available now at BBE Music Store or iTunes.
DJ Devastate is a native of Helsingborg in South Sweden, where he has been creating intricate sounds with classic production techniques for years. His introduction to Hip-Hop culture was back in the mid 90s "golden era", when the funky beats, rhymes and scratches being channelled inspired him to get involved: a decision he has never regretted.
Turntables skills got DJ Devastate recognised quickly and by the end of the 1990s he was regularly on the decks, often showcasing advanced scratching and mixing techniques. Spending a lot of time on stage and in the record stores fuelled his vision of creating and producing music.
Long periods spent in the studio developed into collaborations and records with legendary Hip Hop artists such as: Masta Ace, Kut Masta Kurt, Maylay Sparks, Stricklin, Ed O.G and Reef the Lost Cauze, to name a few.
Far from humbling him, this experience fuelled DJ Devastate to work on a brand new, more personal and conceptual sound. The deep, soulful chords and harmonies of Jazz combined with the driving and organic sound of Funk were the leading inspiration for his new sound that quickly became a musical adventure. The goal was to create a full length album, an instrumental fusion between Jazz, Funk and Hip-Hop. An important factor was to keep the whole project instrumental and to work with musicians instead of vocalists.
The timeless sound of analogue instruments and deliberately outdated studio equipment combined with the jazzy instrumentation and raw Hip-Hop beat programming formed the music and made an idea into an album concept. Ever the perfectionist, DJ Devastate is only now finally ready to present his full length debut album "Movement/Silence". A record that touches the Jazz listener's soul, with banging beats and scratches that make the Hip-Hop heads nod.
The strength of Movement/Silence as an album is in the combination, in the duality of the musical concept. DJ Devastate describes the title "Movement/Silence" like this: "Music is all about catching a moment in time. This could be a single frame, a mental picture, a moment of clarity that fuels the feeling to create. To create music is to give birth to movement where there used to be silence."
Movement/Silence is available from many places, including iTunes, Spotify and BBE Store. Alternatively, check out DJ Devastate's blog: http://djdevastate.blogspot.com/ or MySpace: www.myspace.com/devastatemovement