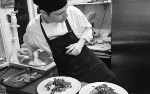 With the Christmas period fast approaching numerous restaurants and bars in the downtown Reykjavik area are all preparing themselves for a busy and eventful festive period, ready to cater for the masses and offer up some Christmas cuisine in celebration.
Now the Christmas tree in Austuvollur square is fully erected and the warm glow of the Christmas lights grace the downtown streets, Reykjavik is in the full swing for the festive period. In celebration, most of the restaurants in Iceland's capital city offer a Christmas menu and every year they all offer astonishingly beautiful cuisine from almost every corner of the world, living up to Reykjavik's global reputation of hosting an array of outstanding restaurants.
One fine example of this is La Primavera, a favourite with the locals, which combines influences of North Italian cooking with local, fresh Icelandic produce. Owned by Leifur, the Chef, and his wife Jonina, the maitre d', La Primavera is a laid back, yet smart restaurant. The regular all year round menu is simple and surprisingly affordable, always providing the freshest ingredients, and not to mention the best possible fish – or as the world renowned chef and restaurant owner Jamie Oliver once described it, "The most amazing, freshest fish I've ever had in my life. It was all so perfectly cooked too. Beautiful."
The Italian Christmas menu, also simply and surprisingly affordable, offers a range of fresh homemade dishes from reindeer to ravioli, salmon to spaghetti and langoustine to lamb all served with the freshest vegetables available. In true Christmas spirit the restaurant is also offering some traditional goodies with an Italian twist, so why not try the succulent breast of turkey with a fruit filling and sage sauce or the saddle of lamb with peaches, chesnuts in cep sauce and celebrate Christmas in style? Then indulge yourself with the restaurant's beautiful array of delicious desserts such as rhubarb with skyr and mascarpone or chocolate mousse with mango caviar, outstanding.
As a whole, the exclusive festive menu, the atmosphere and the comprehensive Italian wine list has indeed proven La Primavera to be a classic choice in Reykjavik, still understated, still simple and above all still very, very yummy!
For booking reservations and further details visit www.laprimavera.is or send an e-mail to laprimavera@laprimsvera.is