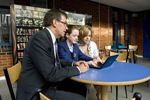 According to a report by Becta into parent teacher relationships, thirty-seven percent of parents say they would welcome advice on how to improve communication with the child's teacher. In conjunction with this, thirty-seven percent of teachers think parents should be given practical advice on ways they can communicate more effectively. The report also reveals that forty-two percent of parents say a secure space on the school website and regular email updates would help them get more involved in their child's education.
The use of technology can allow parents and schools to work collaboratively towards a common goal of improving a child's attainment at school and facilitating higher levels of parental engagement. Online reporting helps parents and teachers share knowledge on a child's progress and improves communication between schools and parents.
Many schools across the country are already improving their partnerships with parents by using technology and the internet to make information accessible for parents at any time of day. This enables parents to keep in touch with the school on a regular basis, have ongoing communication with the school about general school life and methods in which they can help their child learn.
Publically accessible technology such as school websites, downloadable newsletters or a subscription service can provide updated information for school life and events, like school term times and parent consultation evenings. Schools should make information available for parents by providing them log in systems with secure access such as Learning Platforms or access through a portal to MIS data. Email and text messaging could also be used by schools to contact and keep parents informed on sickness, school closure and other information that may be important to inform a parent about as soon as possible.
"Online reporting is a great way to give parents regular updates. Our parents feel more informed and in control when it comes to their child's education and as a result, the children are more enthusiastic about learning", Terry Moon, ICT co-ordinator at Fosseway Special School in Bristol commented.
Evidence from parents who have used online reporting reveals that it allows easy access to their child's school so they can catch up on their work, progress, attendance and behaviour, at any time that suits them. Teachers and schools who have implemented online reporting and electronic communication with parents, have reported that it improves parental engagement, allowing them to bring parents into the school community in a fast and flexible way. It also allows teachers to channel communication from 'overly demanding' parents in a positive manner.
Becta is the government agency aiming to advertise and implement the productive and innovative use of technology throughout the teaching and learning process. The Schools & Parents: A New Partnership report is part of the 'Next Generation Learning' campaign, which encourages the move towards online reporting by using an integrated range of technologies helping parents engage with their child's learning.
To view the Becta Schools & Parents: A New Partnership report or for more details about Becta and the 'Next Generation Learning' campaign visit www.nextgenerationlearning.org.uk
For more information, please contact:
Sophie Jackson 0207 025 6412 / Sophie.jackson@redconsultancy.com
Catherine Sharrott 0207 025 6589 / Catherine.Sharrott@redconsultancy.com
Kate Cox 02476 797146 / Kate.Cox@becta.org.uk