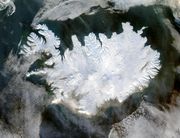 Iceland is a land famed for its utterly unique landscape, its volcanoes, glaciers, hot springs and towering mountains. There are those who visit to bathe, to hike, or simply for sightseeing; but Iceland has much more on offer than you might imagine.
Iceland has a fascinating history – home to the writers of the Viking sagas, the longest-serving democratic parliament in the world and a vivid folklore tradition – there is a wide variety of ways the tourist can take a closer look. One example is Reykjavik Excursions' entertaining jaunt through the hair-raising life and times of Egill Skallagrimsson, the real-life mass murdering Viking saga hero.
A little less bloodthirsty are the northern lights, or aurora borealis. The ethereal light show can be seen all over Iceland (weather and solar activity permitting) roughly between September and April and many tour operators organise nightly trips.
Sticking with the 'heading out into nature to try and see things' theme: why not go whale watching? Daily whale watching tours depart from at least four Icelandic towns, including Reykjavik. North Iceland's Husavik is considered the whale watching capital of Europe – and it has an impressive whale museum to boot. The whale watching season is long, and visitors can get out onto the high seas between April and October.
Salmon fishing in Icelandic rivers is another popular summer activity. The country's eternal summer daylight and breathtaking scenery help; but the real reason is that you'll be hard pressed to find more, bigger, or better quality salmon anywhere else.
Towns all over Iceland have an impressive year-round calendar of cultural events and festivals. The capital, Reykjavik probably has the most extensive variety – including the immense Culture Night celebration every August. Culture Night is actually a whole day and night affair and luckily coincides with the Reykjavik Marathon. Next year, Culture Night also has the good fortune to coincide with the 6th Nordic-Baltic Choral Festival, being held in Reykjavik for the first time. The six day long event will bring hundreds of singing talents together for concerts, workshops and competitions.
The Choral Festival will be over long before the new Icelandic National Conference and Concert Centre opens; but building progress continues and the splendid new edifice to music, design and culture will open in spring 2011.
While in Iceland you will no doubt want to eat and sleep. It's understandable, and that's why the country boasts an excellent array of fine restaurants and hotels. Reykjavik is packed with great eateries and towns all over the country manage to surprise and delight the visitor's palate. Be sure to check out a culinary festival like Reykjavik's Food & Fun every February/March or the lobster festival in the eastern town of Hofn every July.
There are many accommodation options available to the weary traveller, including the five unique hotels in the Center Hotels chain, each with meeting and conference facilities, each in the heart of the city and each with its own unique character.
In Reykjavik's (very close) neighbouring town of Hafnarfjordur, visitors wanting to combine the comfort of a hotel with the convenience of holiday apartments will love Hotel Hafnarfjordur, the apartment hotel. Hotel Hafnarfjordur is even more appealing this year in the off season with apartments starting at just USD 60 a night!
For more details on things to do in Iceland, visit www.randburg.com/is