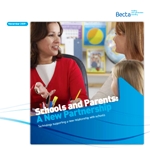 Misunderstandings, a lack of confidence and unclear communication channels are putting children's education at risk, according to a new report commissioned by Becta into communications between schools and teachers. Fifty-nine percent of parents admit to having little contact with their child's school and sixty percent of school staff say parents feel their job stops at the school gates. However, forty-three percent of teachers admit parents might find them 'difficult to approach sometimes'.
Becta is the government agency leading the national drive to ensure the effective and innovative use of technology throughout teaching and learning. It aims to utilise the benefits of technology in order to create a more exciting, rewarding and successful experience for learners of all ages and abilities, enabling them to achieve their potential.
The comprehensive study of 2,000 parents and 1,000 teachers across the U.K revealed over half of parents are in contact with their child's teacher just once a term or less and for various reasons are taking a back seat in their child's education.
The report findings reveal almost half (48 percent) of teachers believe that whilst parents are a great source of support, they don't always know the best ways to get in contact, with over a third (39 percent) of teaching staff saying they would welcome ways to show parents how they might communicate differently.
"Parental engagement is vital to a child's learning and known to help raise attainment. To do this effectively, there needs to be a meaningful dialogue between parent and school, keeping the parent informed and updated," Niel McLean, Executive Director of Becta said.
The report, which was released today, is part of Becta's 'Next Generation Learning' campaign, that urges parents to talk to their child's school in order to find out how and if technology is already being used, and how it can help improve regular communications between them and the school in future. The use of new technology should enable parents to improve communications by keeping track of their child's work, viewing their reports, attendance records and grades at any time of the day via Online Reporting.
To view the Becta Schools & Parents: A New Partnership or for more details about Becta and the 'Next Generation Learning' campaign visit www.nextgenerationlearning.org.uk
For more information, please contact:
Sophie Jackson – 0207 025 6412 / Sophie.jackson@redconsultancy.com
Catherine Sharrott – 0207 025 6589 / Catherine.Sharrott@redconsultancy.com
Kate Cox – 02476 797146 / Kate.Cox@becta.org.uk