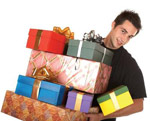 Because employers can't be expected to know what each and every one of their staff would like to receive as a Christmas gift, Sodexo is launching its brand new Christmas campaign 'Everyone's Different'. The campaign is aimed at HR and sales promotion professionals with the message that by giving multi–retailer vouchers, you're giving the gift of choice to your staff and clients this Christmas.
The Director of Sodexo, one of the UK's largest suppliers of incentives and rewards, says: "The corporate Christmas incentive market is worth over £400 million but I wonder how much of that is wasted on gifts that people just don't want or need." Kevin Harrington continues, "It's a fact that panic and confusion sets in when employers are set with the task of choosing gifts for staff and clients. Yet, by giving someone the option of choosing a gift for themselves with a voucher, you're not only offering choice but also giving yourself peace of mind that your gift will be appreciated!"
The new Sodexo campaign uses a clever flip book format to promote the multi retailer SayShopping Pass. The campaign uses various media, including online marketing, and kicks off with a direct mail piece sent to prospects and existing clients. The campaign is launched with a 'leave-behind' flip book given to the Sodexo sales team. The microsite www.everyonesdifferent.co.uk invites clients to 'spin the wheel' with the incentive of a chance to win a Vivabox – a try before you buy gift with a voucher. There are also e-shots and magazine supplement sponsorships planned to capture pre-Christmas incentive gift orders.
SayShopping Pass – the multi retailer gift voucher – can be spent in over 60 outlets, from much loved high street stores such as HMV and Boots to experiences, restaurants and holidays. So employers are offering their staff the choice of tens of thousands of products.
Hunterlodge created the advertising campaign: "We're delighted to be working with Sodexo to develop such an innovative piece of creative promotion that moves away from the typical Christmas mailer," Account Director Paul Mellor says. "The essence of our 'Everyone's Different' proposition, sums up the dilemma that businesses face each year when rewarding employees."
For further information on the available products call 0800 0856238 or visit www.everyonesdifferent.co.uk.
Laura Swann
Public Relations
Hamilton PR
00441892 546599
laura@hamiltonpr.co.uk