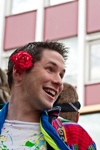 Reykjavik's eleventh Gay Pride event is now a mere memory, and there are a whole twelve months to wait until it happens all over again. But although Pride is over, Iceland does not forget about it.
Around 80,000 people converged on central Reykjavik on Saturday to enjoy the eleventh annual Reykjavik Gay Pride parade and the following outdoor concert with Pall Oskar, probably Iceland's biggest pop star.
There were more carnival floats in the Reykjavik Gay Pride parade than ever before, meaning the crowds did not go away disappointed.
The scale of the event (involving roughly a quarter of Iceland's entire population) is testament to the country's excellent equal rights legislation and the people's inclusive nature.
In fact, Iceland as a gay holiday destination has become increasingly popular recently – partly because of features in major media: Reykjavik was featured as a recent 'destination of the month' in Attitude magazine, among others.
There is no gay village in Iceland. In fact there are barely any gay bars at all. But that appears to have nothing to do with Iceland being a strict, conservative society – quite the opposite in fact.
A quick look into one of Reykjavik's few gay bars will reveal a clientele which is by no means exclusively gay. And if you think all the dozens of other bars in town are straight-only, think again. People in Reykjavik go partying in places dictated by their taste in music, their taste in décor or simply by their bossy friends. They do not need to choose a venue based only on their sexuality.
If you're looking to visit Iceland as a gay destination, there are a variety of helpful websites available – the GayIce.is site is a great resource including a list of links to other useful sites.
Visit Iceland also has a website crammed with useful information on things to do in Iceland, from the Blue Lagoon and the hundreds of geothermal pools to glacier hiking and white water rafting.
For more information on Iceland vacations, take a look at www.visiticeland.com