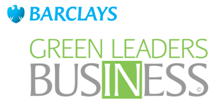 A pioneering company, based in London and known for their responsibly created and delicious smoothies, have been crowned Winners of the 2008 Barclays Commercial Bank Green Leaders in Business Awards.
Green Leaders in Business was open to all UK & Irish companies, and had three separate categories – companies with a turnover below £1m; between £1m and £20m; and above £20m.
Beating off stiff competitors in the above £20m turnover category, innocent Ltd., was presented with the Winners trophy at a glittering gala Awards luncheon held yesterday at London's East Wintergarden.
Innocent is the leading smoothie brand in the UK, selling more than two million drinks a week, through 11,000 outlets. Launched nine years ago, the company has grown from three to 270 people and from a small niche operation to a business with a turnover of £115 million.
From the very beginning, running the business in a responsible way has always been essential to innocent, with a strategy that includes using natural ingredients, sustainable packaging, running a resource-efficient business and sharing profits. Being sustainable influences every area of the enterprise, from low-energy initiatives in their offices to encouraging responsible practices amongst growers and supporting charities in the countries where they source their fruit.
Although proud of what has been achieved so far, the innocent team know there is a lot more than can be done. Still in the planning stage, ideas for achieving 'advanced sustainability' include production supersites which would reduce transportation impact and utilise waste for energy production; agricultural partnerships to form mixed crop fruit farms; working through the innocent foundation to help communities produce fruit for the business; and finding a less resource-intensive way to package and distribute their drinks.
Their goal is to demonstrate that sustainable capitalism is a realistic goal, and a business can be both environmentally and socially aware and profitable.
To mark their success in a unique and memorable way, the 12 National Finalists will be featured in a limited edition book, which will now be sent to government heads and influential figures around the world, showing how British business is leading the way in a new industrial revolution – one that promises to protect and preserve our planet.
Speaking immediately after the Awards innocent's Head of Sustainability, Jessica Sansom, said: "This is a proud moment for innocent and an amazing recognition of our team's hard work.
We are delighted that Barclays recognise the importance of protecting the environment alongside profitability."
Tom Burke CBE, leading environmentalist and chair of the judging panel, said: "Judging the Awards was a very difficult task but we feel innocent is a leader in the green business revolution, a company committed to ensuring there is a world for future generations to inherit."
Barclays Commercial Bank Marketing Director, Richard French, said: "We are delighted to recognise innocent as an inspiring example of a forward thinking company at its very best – and we congratulate innocent on winning the above £20m turnover category of the 2008 Barclays Commercial Bank Green Leaders in Business Awards."
Barclays Marketing Director for Local Business, John Davis, added: "innocent were deserved winners of the 2008 Award, their ecological conscience will improve the way we treat our increasingly fragile planet. I hope winning such a prestigious Award adds to their future success."
Barclays Commercial Bank has teamed up with key partners to develop an exclusive environmental proposition for its customers:
• Through Barclays Capital's award-winning expertise, we can help customers with carbon emissions trading.
• We work in partnership with the European Investment Bank to offer an exclusive cashback scheme to customers financing a wide range of capital expenditure projects, with a minimum project cost of £50,000 and a maximum value of £17 million. Limits subject to change but are based on Euro exchange rate of 1.45.
• Businesses can go to www.barclayscommercial.com/environment for further guidance on environmental issues.
– ends –
For interviews and photography please contact Jenny Stokes at Aspect Communications on 0208 673 2020 / 07966 612636
Notes to editors
Barclays Commercial Bank provides relationship banking to 81,000 larger and medium business customers in the UK (£1m to £1bn turnover). Customers are served by a network of relationship and industry sector specialist managers who provide local access to an extensive range of products and services, as well as offering business information and support.
Barclays Local Business provides great value to their customers by offering services and a comprehensive range of tailored business banking products to more than 630,000 businesses typically with a turn over less than £1 million.
For further information about Barclays, please visit our website http://www.barclays.com.