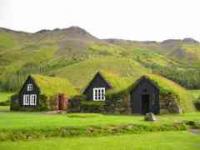 A new website brings together everything about South Iceland in one place, making the region even more accessible to visitors and boosting the tourist industry.
Among the services offered on South.is is a complete listing of South Iceland museums and exhibitions. The website brings together details of all museums in South Iceland in one place, making navigation of the region easier than ever.
Among South Iceland's museum highlights is the fascinating folk museum at Skogar, which has flourished under imaginative management, and by being set in beautiful countryside near the iconic Skogarfoss waterfall.
The vast, sparsely populated expanses of South Iceland would not seem like prime museum territory – but the website South.is begs to differ. As well as the above, listings exist for many dozens of museums and galleries and over 40 churches of interest.
South Iceland museums include the unusual 'Ghost Centre' and The Saga Centre at Hvolsvollur. Visitors with children may be interested in a visit to the Slakki Farm Zoo and the Icelandic Wonders Museum.
As the name suggests, South.is is more than just a list of museums. A complete guide to South Iceland, the new website is still growing and quickly becoming one of the tourist industry's biggest assets.
South.is offers compete listings of accommodation, activities, restaurants, events and much more – all easily navigable and decorated with stunning photography.
The website is also a leading English language guide to the Icelandic horse, including where to ride them, where to buy things for them, and when horse shows are.
Visit South.is for more details on museums in South Iceland.