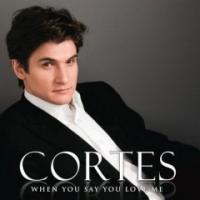 Hello! Magazine recently interviewed Icelandic tenor Cortes in his Surrey home following the release of his second album – When You Say You Love Me.
Singer Gardar Thor Cortes is one of Iceland's biggest musical exports. The opera singer already has a number one album under his belt, along with a Classical Brit Award nomination and a performance schedule almost as long as Wagner's Ring Cycle.
'Cortes', the acclaimed debut album, spent three weeks at the top of the UK chart, and went double platinum in the singer's native Iceland.
Following the recent release of 'When You Say You Love Me', the latest edition of Hello! Magazine presents an eight-page feature on the Icelandic tenor.
Hello! describes Cortes as having "matinee idol looks" and picks up on the fact that the singer has been dubbed "the James Bond of opera". Cortes is naturally flattered by such comparisons, but keeps his feet firmly on terra firma: "the only thing James Bond and I have in common is we both wear suits to work," he jokes.
Gardar and his actress wife Tinna split their time between their Surrey home in the UK and their spiritual home, Iceland. Their busy and independent schedules mean work often keeps them apart for extended periods.
Recently, as Gardar toured Europe and North America, Tinna was appearing in a play in northern Iceland. "We try not to spend more than three weeks apart," Tinna says – but still the couple finds it hard sometimes.
Gardar Thor Cortes is a household name in Iceland, where he was voted the country's sexiest man twice in the same year, Hello! reports.
The Icelandic tenor is, of course, primarily a musician, and not a supermodel. His new album features a stunning collection of soaring vocals and refined musicianship which combines classical grandeur with a contemporary liveliness.
When You Say You Love Me can be ordered online from Play.com and at Amazon.co.uk.
For more information on the new album and upcoming Cortes events visit: www.officialcortes.com