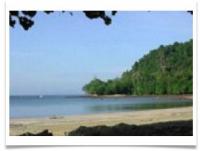 The personal service offered by Andaman Camp and Cruise and its tours of the Krabi region of South Thailand keeps Scandinavians coming back time and time again.
Andaman Camp and Cruise's Krabi tours are available to everybody – but since the company's be ginning (back when it was still called Krabi Island Tours) it has built up a special relationship with its Scandinavian customers.
South Thailand has been a magnet for Scandinavian tourists for over 30 years, and is still gaining popularity. When Sun and his Australian wife, Elizabeth started Andaman Camp and Cruise, two of their first customers were a Swedish couple, Johnny and Monika, from the famous Arvidsjaur district in the tundra of northern Sweden.
During their tour, Andaman Camp and Cruise's traditional longtail boat took Johnny and Monika to visit every island in the area. When they asked for more, Sun decided to show them Krabi – his home village, including his family and the striking local countryside. And so a new breed of Krabi tours with the personal touch was born.
As a local Adversjaur council officer, Johnny gave Sun a T-shirt featuring his hometown in Sweden. An instant favourite, Sun wore it until it literally fell apart.
"Johnny and Monika kept in contact with us and sent many of their friends and colleagues to us," Elizabeth recalls. "And Johnny even posted the story of Sun's favourite T-shirt on the official Arvidsjaur website." And much to Sun and Elizabeth's delight, the Swedish pair finally returned to Krabi this year with a fresh supply of T-shirts and an appetite for adventure.
Andaman Camp and Cruise provides Krabi tours as well as longer tours of the Andaman Sea region of southern Thailand.
With a website in both English and Swedish, Andaman Camp and Cruise pays special attention to its Scandinavian guests and has built up a reputation as the local specialists, where Scandinavian tourists are concerned.
Visit the Andaman Camp and Cruise website for more information on Krabi tours.