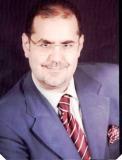 The 2nd Annual Fraud & Financial Crimes Forum, which concluded this week in Bahrain, has presented a vital opportunity for anti-fraud and anti-money laundering professionals from all financial institutions. Hany Abou-El-Fotouh, The Honorary Chairman of World Association of Compliance (WAC) has delivered a presentation at the forum and chaired a stream on e-crimes
Addressing the delegates, Abou-El-Fotouh said: sound corporate governance framework at financial institutions is very important to safeguard the institution against fraud. It ensures that oversight responsibilities exercised at each layer ensures proper internal controls, transparency and integrity. The layers include shareholders (represented in the Annual General Assembly), Board of Directors, Audit Committee and other board committees, independent auditors, CEO & top management and support business units.
He further added: the application of the four principals of corporate governance i.e. accountability, fairness, transparency and fairness; should help the institution to reduce the likelihood of fraud and other financial crimes.
He underscored the importance of training. In particular, internal auditors must receive specialized training on fraud detection and prevention. However, other employees in the institution should receive adequate training relevant to their job. Coupled with training, is targeted fraud awareness programs.
Abou-El-Fotouh stressed that financial institutions should develop sound custom-made risk-focused compliance ad anti-fraud programs, which involve the development and adoption of procedures, systems and controls to address the risk of financial crimes including money laundering. Additionally, they should understand the latest technological solutions in combating fraud and financial crimes
Finally, Abou-El-Fotouh called on financial institutions to improve customer data protection and assess their operations accordingly.
About World Association of Compliance (WAC)
World Association of Compliance (WAC) is a non-profit organization registered in New Jersy. It focuses on regulatory and compliance issues worldwide
Contact:
Hany Abou-El-Fotouh, CAMS
FVP Corporate Governance & Compliance Group Head
ABC Bank – Egypt
Tel- 2011-2665600
hany.abouelfotouh@arabbanking.com.eg
hanyfotouh@yahoo.com
http://www.wac-online.org/