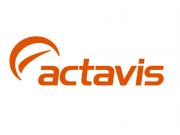 Generic pharmaceuticals group Actavis extends its US portfolio with first injectable product.
Actavis Group, the international generic pharmaceuticals company, has received approval for Irinotecan Hydrochloride Injection from the US Food & Drug Administration. Distribution of the product will commence immediately.
Irinotecan Hydrochloride Injection, the generic equivalent to Pfizer's Camptosar®, will be available in 40 mg/2 mL and 100 mg/ 5 mL vials and is used in the treatment of patients with metastatic carcinoma of the colon or rectum.
Annual sales of Irinotecan Hydrochloride Injection in the United States were approximately US$556 million for the 12 months ending December 2007 according to IMS Health data.
Doug Boothe, Executive Vice President of US Commercial & Administration, said:
"The launch of Irinotecan marks the expansion of Actavis' US portfolio into the injectable pharmaceuticals arena. Actavis has set its sights firmly on the hospital sector and currently has around 300 pending applications worldwide for injectable medicines. Furthermore, Actavis' ambitious pipeline comprises more than 60 new projects, developed both internally and through established relationships with other developers."
Actavis already markets over 50 hospital products worldwide, with a focus on oncology products and a growing range of anti-infectives, local anaesthetics and analgesics.
Enquiries
Actavis Group
Hjördis Arnadottir
Director, External Communications
Tel: (+354) 535 2300 / (+354) 840 7476
E-mail: harnadottir@actavis.com
Actavis US
David Myers, Jr.
Manager, Products & Communications
Tel: (973)993-4503
E-mail: dmyers@actavis.com
About Actavis Group
Actavis is one of the world's leading generic pharmaceutical companies specializing in the development, manufacture and sale of generic pharmaceuticals. Based in Iceland, the company has operations in 40 countries, with 11,000 employees. More information about Actavis can be found at www.actavis.com
Any statements contained in this press release that refer to Actavis' estimated or anticipated future results or future activities are forward-looking statements which reflect the Company's current analysis of existing trends, information and plans. These forward-looking statements are subject to a number of risks and uncertainties that could cause actual results to differ materially depending on factors such as the availability of resources, the timing and effect of regulatory actions, the success of new products, the strength of competition, the success of research and development issues, unexpected contract breaches or terminations, exposure to product liability and other lawsuits, the effect of currency fluctuations and other factors.