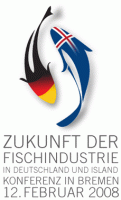 Glitnir bank is one of the main organisers behind a conference on the future of the seafood industry at the Fish International expo in Germany next week.
Reykjavik / Bremen (eNewsWire) 7 February 2008 – Nordic bank and seafood specialist Glitnir will co-host a conference next week on 'The future of the seafood industry in Germany and Iceland'.
The conference will focus on the future of the seafood industry in Germany and Iceland – two countries that face similar challenges in the sector.
The event will be hosted together with the Icelandic Embassy in Berlin, the German-Icelandic Chamber of Commerce and Fish International and will take place on February 12 alongside the Fish International exhibition in Bremen.
Key topics:
How do Germany and Iceland meet the challenges for the seafood industry and what are their visions for the future? How would the sustained management of stocks and the protection of the ocean's ecological systems contribute to the international competitiveness of the two countries?
In Iceland, fishing and fish processing still form the backbone of the country's economy, whereby Icelandic companies are increasingly operating and investing around the world. The German fishing industry is completely integrated in the EU's common fisheries policy and subject to joint directives, from harvest rules to processing and marketing.
Agenda:
Opening remarks
Olafur Davidsson, Ambassador of the Republic of Iceland
Fisheries management and fishing in Iceland to sustain stocks
Einar K. Gudfinnsson, Minister of Fishery and Agriculture of Iceland
The German fishing industry and its competitiveness in Europe
Jürgen Marggraf, Director of Operations Frosta AG
Iceland's fishing industry – today and tomorrow
Eggert B. Gudmundsson, CEO HB Grandi
Island als Lieferland Für Deutschland – was können wir in Zukunft erwarten?
Oskar Sigmundsson, Geschäftsführer, German Seafrozen
Consolidation in the seafood industry
Kristjan Hjaltason, Business Director Seafood Glitnir Bank
Panel discussion
Further speakers will be confirmed at a later date.
Chair of the conference is Dr. Mathias Keller, GM of the German Association of Fish Producers and Wholesalers
Programme:
Where: Fish International 2008
Bremen Trade Fair
Fairgrounds, Hall 7, VIP Lounge
When: Tuesday, 12 February 2008, 10.00 – 13.00
Registration:
Dr. Birte Bernau. infoberlin@mfa.is. Tel.: +49 30 5050 4180 / +354 545 7826. Fax: +49 30 5050 4310
Invitation – in German