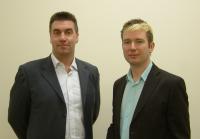 At the beginning of the academic year, Chris Underwood, Chairman of Young Enterprise Aylesbury Vale, came up with the idea of enhancing the Young Enterprise experience by organising monthly Entrepreneurs Club.
Several sessions later, the Club is running strongly with high profile local business people spending time with Young Enterprise achievers to answer their questions about topics as diverse as customer service, buying a business, sales and marketing.
It was Simon Osborne's turn to run the session on Monday, and he shared his insights about buying a business based on his experience with Baxter International Removals. He also covered a variety of other business issues, commenting that 'The Entrepreneurs Club was a really good idea as it gives young people a better understanding of what running a business really is like.'
Other local business people who have supported the Entrepreneurs Club are Neal Carter from Hillier Hopkins and Richard Waite from ESRI (UK). If you would like to become involved, please visit www.yeav.org or email mary.cloake@yese.org.uk for more information.
– ends –
Young Enterprise is an educational charity that offers students the opportunity to run a real company in Company Programme. The Young Enterprise Programmes are based on the principle of "learning by doing" and each programme involves practical, fun, hands-on activity, led by a Volunteer from local business or the community working alongside teachers/lecturers with specifically designed Young Enterprise programmes. Young Enterprise Volunteers become part of an exciting and enjoyable learning experience for the local community.
Contact details:
board@yeav.org
01296 435196