Stuttgart, 28. November 2022 – Adaptavist, who recently won the Atlassian Partner of the Year, awarded demicon GmbH the Case Study Of The Year Award in recognition of their work for the Rainforest Alliance. "Using Scriptrunner for Jira, we helped the Rainforest Alliance to simplify and accelerate its palm oil traceability process, thereby facilitating the work of all stakeholders involved while promoting trust and sustainability," says Christian Wiemer, senior consultant at DEMICON. The NGO created transparency along the entire palm oil production chain with reliable, precise data collection and big data processing.
The work of DEMICON forms the basis for the traceability program, which aims to enable more sustainable palm oil production. Christian Wiemer continues, "We have multiple exciting success stories, but we are specifically proud of this one. It shows how we developed a scalable solution for successful documentation and project management, handling large sets of data." The adaptable nature of Jira makes it a perfect match, and to extend the power of Jira even further, DEMICON  worked with ProForma: Forms for Jira, Email This Issue, Insight Asset Management, and Refined for Jira. However, the Rainforest Alliance needed a way to move vast amounts of data between different Atlassian applications efficiently using automation, and for that, DEMICON went for ScriptRunner.
The main benefit of the work for the Rainforest Alliance is the streamlined and straightforward communication between all stakeholders. In addition, the Rainforest Alliance team now also benefits from increased efficiency, strengthened compliance, and transparent stakeholder management. Ultimately, the time savings and real-time data processing have not only resulted in a very successful partnership but, more importantly, have enabled the Rainforest Alliance team to achieve its goals. "This is a brand new award given by us for the first time this year. The Rainforest Alliance success story inspired us that the idea sparked to start this award, and who other than DEMCION should get it," comments Andy Kirk, Channel Partnerships Manager at Adaptavist.
He continues: "DEMICON's work with international nonprofit organisation Rainforest Alliance is a great example of how partnerships can help achieve positive outcomes for organisations using Atlassian tools to improve efficiencies and automate processes."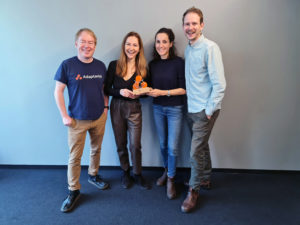 From the left Andy Kirk, Channel Partnerships Manager at Adaptavist, Merilin Kattai, Partnerships Team Lead at Adaptavis,
Susann Garin Partner Manager at DEMICON and Christian Wiemer, Seniro Consultant at DEMICON
About DEMICON
DEMICON is a multi-award-winning IT service provider with 14 years of experience, and is one of the leading AWS and Atlassian Platinum & Enterprise Solution Partners in the DACH market. DEMICON has built a legacy based on deep technical expertise, strategic thinking, and a people-first approach. Our services range from customised software development and implementing scaled, agile methods, such as SAFe, to consulting on agile processes and hosting seminars and workshops. Our team of experienced Enterprise Architects, Technical Consultants, Software Engineers, Business Consultants and Project Managers provides a wide range of solutions to help companies reach their digital goals. DEMICON has close to 150 employees in five countries and offices in Berlin, Hamburg, Munich and Stuttgart.
About Adaptavist
Adaptavist is a global technology and innovative solutions provider, helping organisations boost agility and overcome the challenges of digital transformation. Founded in 2005, its team spans over 650 employees globally, with a 18,000+ customer base representing more than half of the Fortune 500. Adaptavist supports customers with applications, consultancy, agile implementation, app integration, training, managed services, and licensing solutions – through strong partnerships with Atlassian (a Platinum Atlassian Solutions Partner and a Platinum Marketplace Partner) as well as partnerships with Slack, Monday.com, AWS, GitLab, Aha!, Temporall and more. The company has been awarded the Queen's Awards for Enterprise and Deloitte's Technology Fast 50.