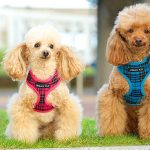 UrbanPup.com, the online retailer who specialise in high fashion dog clothes and accessories, have been appointed as an official partner to the UK tour of "Legally Blonde the Musical". The show opens on the 11th of September and tickets are now on sale.
Denis Kelly, Managing Director of UrbanPup.com says; "We provided our favourite and most fashionable dog clothes to dress the Chihuahua star of the show. Our pink sweater and diamante collar & lead proved to be a great hit and UrbanPup.com now exclusively supply all the clothes from 'Bruisers Wardrobe' which can be found at urbanpup.com
The show tells the tale of college girl Elle Woods and her Chihuahua Bruiser as they head to Harvard Law School to win back Elle's man, Warner. Starring Rita Simons as Paulette Bonafonte, Lucie Jones as Elle Woods, and Bill Ward as Professor Callahan. A great cast and a great production are sure to tantalise and captivate audiences across the UK and ensure that the show is a continuing success. For ticket and venue information please go to www.ukproductions.co.uk
UrbanPup is thrilled to be associated with such a successful Musical and we look forward to the opening of Legally Blonde the Musical and seeing how Bruiser performs in his new outfits which are available online at UrbanPup.com.
About UrbanPup.com
UrbanPup.com is an online store that provides the fashion conscience with stylish clothes for their dogs. Our collection ranges from dog carriers and sweaters to beautiful collar and lead sets with exquisite coats to complete that on trend look.
Contact:
Denis Kelly on 02895 812107 or denis.kelly@urbanpup.com
For more details, go online to: http://www.urbanpup.com