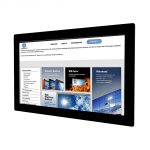 The newly developed WebPoster by Distec – leading German specialist for TFT flat screens and system solutions for industrial and multimedia applications – is now based on a modern, future-proof computer platform and displays all common web content. With the TFT WebPoster, Distec meets the demand for administration and maintenance free information displays with an embedded Linux operating system. "As a classical network device, the WebPoster is configured via an Internet browser," explained Michael Dernbach, Product Marketing Manager, Data Display Solutions by Distec. "Thanks to the integrated embedded operating system, no costs for monitor administration or system updates incur." Designed according to industrial standards, the monitors continuously show the contents of a webpage and are ideally suited for displaying enterprise information, for human resources consulting, for visualizing and monitoring industrial processes, as well as for digital signage. The WebPosters are based on the well-known POS-Line monitors. They are available in a broad range of sizes ranging from 15 to 65 inches.
Maintenance-Free Information Display
After a simple configuration process, the monitor connects to the provided website and begins a continuous display of its content. No keyboard nor any other input devices are necessary. Any configuration adjustments are managed through the network. Website changes happen automatically. On request, Distec will add a PCAP touch if the WebPoster is intended not only for display but for interactive use of websites. The industry panels with LED backlighting are energy-efficient and long-lasting. They are suitable for VESA mounting or as built-in monitors. In addition to classical industrial design with robust metal housing and protective glass or true-flat glass with bezel, diverse customer-specific designs are available. Distec manufactures all WebPosters in Germany.
Company-Contact
Distec GmbH
Christina Sicheneder
Augsburger Straße 2b
82110 Germering
Phone: +49 89 89 43 63 0
E-Mail: ma@ahlendorf-communication.com
Url: http://www.distec.de
Press
ahlendorf communication
Mandy Ahlendorf
Schiffbauerweg 5F
82319 Starnberg
Phone: +4981519739098
E-Mail: ma@ahlendorf-communication.com
Url: www.ahlendorf-communication.com