Sheffield, United Kingdom 9/14/2017. Digital technologies now pervade all aspects of life. Yet not everyone is able to access these technologies and if they cannot understand or use them, then they will not be participating in the ever changing digital world we are creating.
The DeveloperSpace at ds.gpii.net is a unique online digital hub designed to address the challenges of over 1 billion people globally facing disability, literacy, digital literacy or aging related barriers to using ICT.
Launched this week  during the 2017 Conference of the Association for the Advancement of Assistive Technology in Europe (AAATE), held in Sheffield (UK), the DeveloperSpace and the Unified Listing represent the first digital hub of its kind in the world, providing the resources needed to learn about, create, improve and market accessible products and solutions.
These platforms are part  of the Global Public Inclusive Infrastructure (GPII)  designed and built by top researchers, assistive technology experts and companies from Europe, Canada and the US.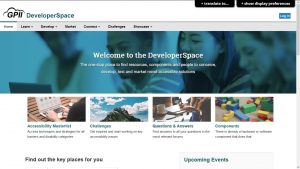 'This is about people creating new solutions for people, it is the only place that provides new developers with the resources and information available from all over the web to learn about accessibility and move ideas out into the real world`, said Professor Gregg Vanderheiden, Co-Director of the GPII and co-founder of Raising The Floor International, a non-profit organization whose main focus is the development of the Global Public Inclusive Infrastructure (GPII).
These tools can be used by anyone interested in accessibility and the personalization of digital access, including assistive technology developers, researchers, companies building accessible features into their existing products, mainstream enterprises, public institutions, and policy makers.
The objective is to make it easier and more affordable for all users to adapt any digital technology they come in contact with -computers, smart-phones, TVs, ticket machines -to their individual needs. User´s preferences will be stored in the cloud where they can be called on to adapt to any device anytime, anywhere, so that it is understandable and usable by each person.
'The GPII represents a paradigm shift in e-inclusion, a fresh approach to accessibility based on the capacity to provide "one-size-fits-one" designs through networked digital systems, offering greater choices and helping people with disabilities assert their right to access the digital world anytime, anywhere without explaining, negotiating or justifying their personal needs', explained Jutta Treviranus, Director of the Inclusive Design Research Centre (IDRC) and co-founder of Raising The Floor International.
Prosperity4All is a 4-year EU funded project which began in February 2014 with the mission to develop the Global Public Inclusive Infrastructure (GPII) an initiative led by the non-profit association Raising The Floor International. The project has brought together a total of 25 partners from 13 countries.
Contact:
150 Route de Ferney
CH-1218 Grand Saconnex/Geneva
Switzerland
Tel: + 34 663 216 693
Email: mariusa@raisingthefloor.org
We: www.raisingthefloor.org