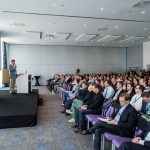 The WUC 2015 conference is to feature Kristjan Mar Hauksson COO of SMFB Engine in Oslo and co-author of Global Search Engine Marketing. For the 2015 WUC event Kristjan Mar Hauksson will be speaking and moderating during day two at the event that includes industry thinktanks such as Bas van De Beld from State of Digital, Joana van den Brink-Quintanilha from Forrester Research and from McDonald's Pierre Woreczek.
Kristjan Mar Hauksson is the co-founder and Chief Operating Officer at the Norwegian based creative activation agency SMFB Engine. SMFB Engine works with great clients such as Diadora, Ikea, Nordic Choice Hotels and Mondelez to mention few. Besides having written couple of books, Hauksson has served on the board of directors of SEMPO and was the 2014 European Search Personality of the year.
The 2016 Webtrekk User Conference brings together national and international users, partners and experts to share important insights on digital analytics and marketing. In addition to presentations on innovative features of the Webtrekk Digital Intelligence Suite, you will discover best practices, new approaches and emerging trends in digital intelligence. All presentations will be held in English. The theme of the 2016 Webtrekk User Conference is "Data Meets Creativity".
"To me the theme of the conference is very important, data is the only thing that shows us the true impact of our communication activities and without it we are fumbling in the dark. Making smart digital decisions can be extremely profitable. Technology has changed the way we communicate, the way we do business and how we live our lives. Smart brands seek to take advantage of digital opportunities that exist. Here data is extremely important." Says Kristjan Mar Hauksson when asked about the theme of the conference.
For further information regarding the WUC please visit https://wuc.webtrekk.com/
To find out more about SMFB Engine and Kristjan Mar Hauksson visit www.smfbengine.com and his blog www.optimizeyourweb.com.