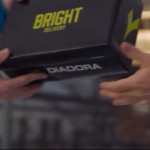 Diadora Make It Bright – Make it bright means a new way to live life, sport and style. It is something more than a claim, it is an attitude, a call to action to join Diadora on its journey of self-discovery and innovation. Diadora's aim is to do everything in a bright way, which means turning ordinary, everyday acts into extraordinary ones. Living bright the Diadora way will put the joy of sport front and center, bringing it back into a world that tends to speak a language made of pressure, performance and gain.
The Campaign – Bright Delivery
The very idea of taking an everyday occurrence – a shoe delivery – and turning it into something epic is what led Diadora to organize the most spectacular relay run ever attempted. 1500 km across the very diverse and photogenic terrains of Europe,  runners will be followed by a camera crew and support team, reporting live from the race.
Everyone was welcomed to join in through a simple recruiting process that encompassed most of January. Participation in the initiative does not require marathon-like prowess, but a true and tested enthusiasm for running and for shaping one's life through the joy of sport.
A Diadora-dedicated website will allow people to follow the run and engage with the runners, who will be picked from the most diverse walks of life and will be coming from all over the world. Running will be the common thread uniting these most different stories, and will be the backbone of this initiative.
The Relay
The Relay will start at the very heart of Diadora – its Italian headquarters in Caerano di San Marco (TV), at the production centre where the first pair of SS2016 N9000 will begin production. From the production centre, this pair of shoes will make its way through the incredible backdrops of Southern Europe, and finally be delivered to Barcelona, Spain. This journey will ensure the greatest variety of terrains and landscapes possible.
The Delivery of an Icon
The N9000 was originally designed in 1990 for high-performance training, with good integrated cushioning, and thanks to its advanced technical features, it was worn by some of the greatest champions of that era. Both the sole and the materials faithfully reproduce the original build, making this shoe a staple in the Diadora Sportswear catalogue. The buzz it has generated is thanks to a series of high-profile collaborations, making this shoe an icon for the brand and the symbol of Diadora's return on the sportswear turf.
For more information makeitbright.diadora.com