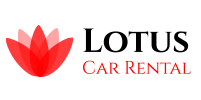 To enjoy true freedom to explore without any constraints, the only viable option is to hire a car in Iceland. Most visitors coming to Iceland arrive at Keflavik Airport. This facility is about 50kms from Reykjavik, the capital city. Leading suppliers offer car rental from outlets at both the airport and in the city. When booking a car rental it pays to check exactly what you are paying for.
Some suppliers offer just basic car hire and the daily rates do not cover essentials such as full insurance. It is no good getting a vehicle at a slightly cheaper rate and then getting hit with a punitive surcharge for a minor scratch when you return the car. Another way less reputable hire companies inflate their bills is by tacking on extra fees for mileage.
Leading suppliers such as Lotus Car Rental offer hire cars in Iceland with unlimited mileage and CDW insurance included. This service means you only pay the rental fee shown when you make the original reservation. Your car hire in Iceland will not cost any more no matter how many miles or kilometres you cover. Collision Damage Waiver is included in the price too and does not need to be bought as an optional add-on. The price quoted on the website, or over the telephone, is what you will pay and not one penny will be added on.
Iceland is rapidly turning into one of the most popular holiday destinations for northern Europeans. Recently released statistics show that people from the UK and other Scandinavian countries make up the largest amount of overseas visitors. Fantastic natural attractions, picturesque towns plus an eclectic choice of activities ranging from whale-spotting cruises to guided glacier walks ensure Iceland's star will not wane any time soon.
Read more about hiring a car in Iceland here: http://www.lotuscarrental.is/
Contact:
Alexander Haraldsson
CEO
Lotus Car Rental
Njarðarbraut 1, Keflavík
+354-787-4444
alexander@lotuscarrental.is